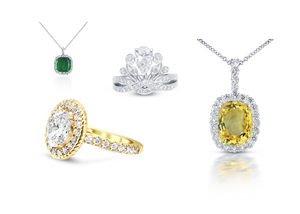 If you can imagine it
We can build it
Custom designs are our crown jewel. Our artisans engineer CAD jewelry designs using state-of-the-art equipment, software and laser technology to create breathtaking one-of-a-kind pieces.
You'll be a part of the design process at every step - from the approval of the computerized images and waxes - to the final casting.
Custom Design Process
Step 1: Consultation
We can discuss your jewelry ideas either in person, email or phone. It's helpful if you come to us with pictures of anything that inspires your design idea. If you don't have a vision in mind, we will work diligently to create the perfect one. 
Step 2: Rendering & Design Approval
We will render the final design in CAD, to be sure it meets your 3D vision. Upon your approval of the design, a deposit is required to begin production.
Step 3: Production
Once the final design meets your approval, the jewelry then goes into production. Your item is cast, set, polished, and everything needed to bring your vision to life.
Featured Design
Custom Bridal Set
See how this pear-shaped set including a heirloom diamond came to be.
Learn more
Yes, we will use customer stones and also advise if we need to add any of our own, or recommend better matches to make sure the piece comes out to the expected quality and design. 
We definitely can, depending on the style.
With CAD technology and designer expertise, the price has become much more affordable than people realize. Pricing starts at $150-400 for CAD, wax, and casting (contingent on the design). The rest is material and labor to polish and set stones. 
All rings purchased at $500+ come with an appraisal. We can always get you one by request.