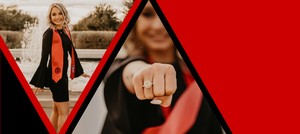 Texas Tech
Class Rings
All custom, all you.
Official Texas Tech Jeweler
Many of the designs you see in the marketplace originated from our store in Lubbock, Texas. We're the real deal.
Superior craftsmanship
Our master jewelers create every ring custom to order. Using the latest in CAD and laser technology, allows us to get every detail just right.
Customers First
We'll do everything we can to ensure your satisfaction. From flexible payment options to special customizations, we won't stop until it's perfect.
We don't show pricing on our website because the final cost is dependent on the components of your class ring, primarily the gold type and your finger size. We want to give you the best, most competitive price that we can, so the best way to estimate your cost is to inquire through our specific product pages, email, call or just stop by the store. To give an accurate estimate for your class ring, we will need an accurate ring size.
Yes, we offer a no-interest layaway. Just put your deposit down (⅓ total cost) and you can make payments on it until you are ready to pick it up. The amount and timing of payments is up to you. Once paid in full, the ring is yours!
To order a Texas Tech class ring you must pay a down payment (⅓ total cost); from that moment it will take about 10-12 weeks to receive your ring. If it is a custom ring and requires CAD reviews, we will need to allow for more time in case of revisions. 
Our consultations typically run 30-45 minutes each. We will start by looking at the styles and understanding what you're looking for. To order a Texas Tech class ring we will require a downpayment equal to ⅓ of the total cost. The completion date of your Texas Tech class ring is dependent on current lead times and the level of customizations that your design requires. At the consultation, you will get an estimated time of completion.
We prefer that you come into our store, so we can accurately measure your ring finger and get you exactly what you're looking for. However, if it's not possible, we have created stunning pieces over the phone and email. 
The difference is the purity of the metal; the higher the karat, the higher the amount of gold content. The higher the karat, the softer the gold is, so we build our TTU rings with 10-14K gold because it will hold the detail longer through normal wear and tear.
Yes, we offer a lifetime guarantee on manufacturing. Should something go wrong with your ring, just bring it into our store for service. Scenarios covered under manufacturer's warranty include:
-Breakage on weld or solder points 
-Stones coming out without damage or without normal wear and tear
-Missing on the finger size if we measured
Scenarios that are not covered under the warranty are:
-Damage to the ring from normal wear and tear or excessive wear (ex: working out in it)
-Damage to the ring from extraneous circumstances such as external pressure or force.
-Loss or theft (we recommend insuring your jewelry through Jewelers Mutual and we can give you a quote in the store)
Absolutely! In fact, we encourage you to make the ring yours. We have 50+ popular styles we've developed over the years with clients, and will do our very best to accommodate your desired customizations. Here are a few design component ideas we can include:
-Diamond halos
-Colored gemstones
-Names
-Graduation Year
-Major
-Mascot
-Inside ring engraving for personal messages or identification
For custom rings we use CAD Technology, allowing you to review the computerized design images before we make the ring. This process will require more time outside of the 10-13 week timeframe, so we can make time for several rounds of review if needed. This is all to ensure you absolutely love your TTU ring!
Yes, we only use natural earth-mined diamonds and gemstones in our Texas Tech class rings. They range from G-H grade in color and VS-type clarity Diamonds.
We prefer you to bring it in (free of charge) to let us clean and check all the diamonds, but we understand that isn't always possible. To care for your TTU ring at home, use a soft bristle toothbrush, warm water and a gentle soap like Dreft or diluting ammonia to get it nice and clean.
★★★★★

10/10 recommended this store. Both of my daughters received their Tech rings
here. Great customer service and quality craftsmanship!

Lori M.
★★★★★

I went to J. Keith's to get my Texas Tech University Class of 2012 ring. I was extremely pleased with the entire out come. Everyone who works there ensured I received the best quality and experience! I love my ring and it's unique design is far superior than the competition.

Megan K.
★★★★★

Built a custom Texas Tech ring that is fantastic. Did the whole process from long distance. Alan was awesome and sent me several images via email, added his expertise and knowledge to help create my perfect ring. Came through with early delivery and everything matched exact specifications. Great price and phenomenal product. I recommend them with no hesitation. Thank you!

Matthew F.
★★★★★

I took my class ring to be cleaned today and had a fantastic experience. The ring was cleaned in less than 5 minutes and it looks beautiful!

Berkley B.
★★★★★

I ordered my class ring through J Keith's and I absolutely loved the jeweler and my ring.

Becca C.