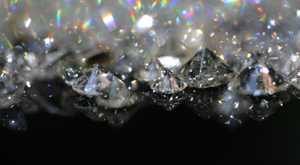 The experience you deserve
Buying an engagement ring doesn't have to be stressful (if it is - run!). Our goal is to first be an advisor to ensure you make a decision with 100% confidence. Our expertise spans 30+ years and we're prepared to teach you all we know - as little or as much as you need. We hope this guide kick-starts your search for this momentous occasion. Congratulations!
Must-haves for Engagement Ring Shopping
Set a budget
Have a price range in mind. Going in with fairly specific parameters will help us find the best engagement ring for your budget.
Preferences
Take notes about her style: is she classic, modern or vintage? Is her jewelry typicalsly simple or ornate? Does she wear more silver or gold?
Ring Size
Borrow a ring she already owns or trace its inner circle on a piece of paper, or put it on your finger and draw a line where it stops.
The 4 C's
GIA established the 4Cs of diamond quality as the universal method for assessing the quality of any diamond in the world. They are not only a global authority, but the world's trusted source for unbiased assessment. We highly recommend GIA certified stones.
Do not feel like you have to become an expert in diamond grading, this is why we are here; to ensure you are getting the best quality stone at the best value.
Diamond Shapes
There are so many diamond shapes to choose from when shopping for an engagement ring: round, square, marquise and more. Here's a detailed guide to diamond shapes, covering what makes each shape special. Click the link below for a short recap of the shapes to get you acquainted quickly.
Setting
When picking a setting, first consider her lifestyle, and how well a certain setting will fit into it. If she's more active or outdoorsy, look for lower profile and less ornate. If she leads a more glamorous life look for a statement settings with a higher stone profile and more intricate ring detailing. Not sure where to start? Use our setting filters to find the ideal style. Choose one or many filters to narrow down the selection.
Your budget for an engagement ring should be whatever you are comfortable with; forget the whole "three months salary" thing. We have made truly beautiful and special rings at $1,000 to rings that cost more than cars. At the end of the day, she's not marrying for the ring. We will make it something you both can be proud of.
We have diamond alternatives such as moissanite, lannyte, and white sapphire. Also, color stones are an amazing option and have an ability to capture a unique beauty. 
Value, Trust, and longevity of service. We try to get to know our customers on an individual basis and taper our service to you. 
Grab a ring that fits her left hand or get a family member or trusted friend that can keep a secret to help you out (get them to bring her into a store for measuring and looking). 
Most wedding rings will be built in 14kt, 18kt or platinum. See what kind of rings she's into:
If she is into gold, 14kt or 18kt would both be fantastic options - 14kt is stronger, but 18kt gives a richer color and costs more.

If she's into silver than you're looking at white gold or platinum. We tend to point our customers into the 14kt option on this one or platinum if they want something that maintains a very white look over time.

If she's into rose or pink gold we have that option as well. The lower the content of gold, the more coppery it will appear.